There's nothing quite like a Rockaoke Christmas party for getting everyone in the mood for letting their hair down and having a wonderful Christmas time. 
ROCKAOKE is always a big hit at Xmas parties where totally interactive, no holds barred fun for everyone is the key requirement. Over the last few years we have done Xmas parties for the likes of Google, Daily Mirror, The Guardian, England Rugby 2015, European Tour, Mercedes F1, J&J, TFL, RBS, ECB, Yahoo, Sony, Barclays Bank, Ernst & Young, 3Mobile, Nando's, Danone, Freshfields, Top Gear Live etc… 
chris moyles show caroloke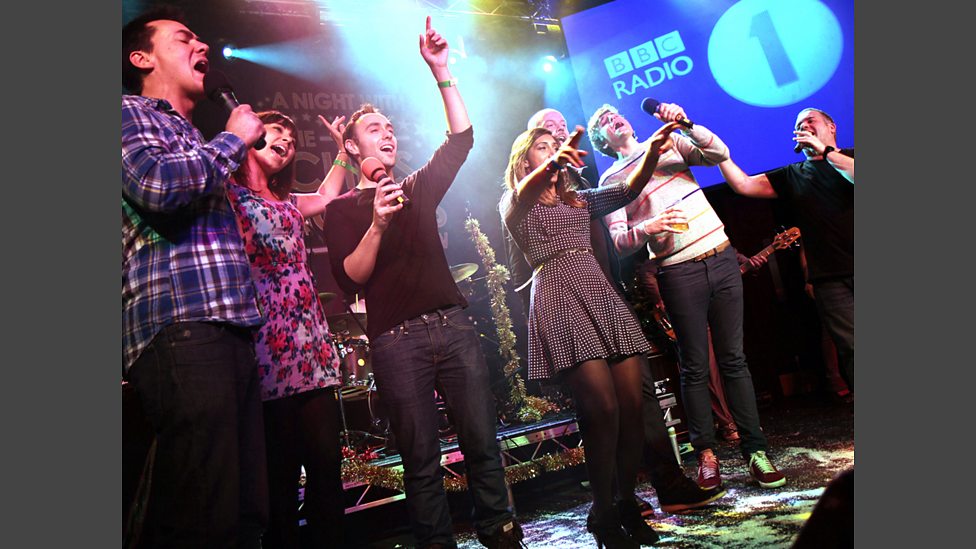 Some of the greatest ROCKAOKE Christmas Parties were on the road with the CHRIS MOYLES SHOW. Having toured with Chris and the team in 2009, ROCKAOKE were the band for Radio 1's CHRIS MOYLES CAROLOKE every Christmas until Chris left the breakfast show.
Guest singers included James Corden, John Barrowman, Peter Andre, Patrick Kielty, Greg James etc…
see photos below…
christmas party photos
Some of our favourite photos from the merriest ROCKAOKE christmas parties.
Gallery
Photos from ROCKAOKE's various Orange Pip Market appearances between 2017-19. Summer street parties and Christmas in Middlesbrough Town Hall Crypt,
christmas party videos
featuring performances from Chris Moyles, Patrick Kielty, Nico Rosberg and the legend Michael Schumacher
christmas party testimonials
Your guys smashed it last night. Really cool. Thanks very much please pass on our thanks to the band whom I feel we will be seeing again !
Good afternoon boys. How are you all? Just to say thank you for a wonderful nite last nite everyone really enjoyed it.You were such good fun everyone is saying how amazing you all were!! Thank you again. Xxx
Chelsea FC booked Rockaoke for our staff Xmas party at Under the Bridge in Dec. We wanted entertainment that made the most of the amazing music venue that we have at Stamford Bridge and Rockaoke seemed like the perfect fit. We were not disappointed! The guys whipped the 400 strong party into a frenzy, guiding many enthusiastic groups of singers through classic tunes that got everyone dancing. It was great to give the Chelsea FC staff the chance to be rockstars at their very own music venue. We really valued the bands enthusiasm, showmanship and professionalism. In fact we enjoyed working with them so much that we are now offering their rock and roll services as part of our entertainment package at Under The Bridge!
I just wanted to say a massive thank you to you both and the rest of the band for all of your help leading up to the event and for such a huge success last night. You are a complete delight to work with. The BNY Mellon client absolutely loved it and I'm sure you will be getting more bookings out of it. We will be letting all our clients know about you and look forward to working with you again.
I am writing to thank you very much for the unforgettable impact that Rockaoke had at the England & Wales Cricket Board Christmas Party.  Our particular highlights included:
·        Mike Gatting and the leadership team singing: We Are Champions – I think you forced them into that to celebrate the year in which England became the number 1 Test ranked side in the world – highly amusing for the rest of the company.
·        The transformational effect on Chris Higgo, the man you awarded best performance, from a quiet fellow in IT to strutting Rock God.
·        The X-factor moment when Commercial Department PA Sarah Francis brought the house down with Valerie, winning best singer.
·        And everyone in the company with their arms around each other singing Sweet Child of Mine to close the night.
It really was a sensational night and has been the topic of conversation in the office since – unanimously agreed as the best ECB staff event in my 10 years here.  Also, thank you so much for the price you gave your favourite sport which can barely have covered your costs.  Until next time, ROCK ON.
The guys were excellent throughout the Xmas period, bringing their ebullient style and amazing energy to large events for very big clients such as LOCOG, Thompson Reuters ( they demanded a repeat booking), Freshfields, Reed, Roche and Mercedes Brawn. They gathered big crowds effortlessly, engaged staff members of all levels and never failed to get the party rocking. What I love about these guys is their desire to make everyone have a good time, whether it's on stage singing or off stage dancing.
They are a dream to work with because they are excellent at what they do and they create a spontaneous, combustive party atmosphere every single time. The boyish charm, endless enthusiasm and professionalism make a very attractive combination, and really nice guys to boot!
Thanks so much for last night.  A brilliant concept, executed with huge amounts of energy and rigor.  The Rockaoke team are a joy to work with, and seem to be as happy to be on stage as the participating guests!  Huge fun.
rockaoke xmas party clients
3Mobile AAH Activision AEG AIHHP Aon ASOS Atlantis Healthcare Barclays Bank Barnes Rowing Club BAT Bauer BD Network Berryworld Betfair Blue 449 Blue Latitude Bluefin BNY Mellon BP BW Interiors Canary Wharf Ltd. Carphone Warehouse Cathedral Group CBS Interactive Chelsea FC Chris Moyles Show Clifford Chance Concorde Club Cotswold Group Daily Mirror Danone Discovery Channel Durex Earls Court ECB Eidos England Rugby 2015 Equifax Ericcson Ernst & Young Evening Standard Execution Ferrovial Forever Living Fremantle Media Fresh Freshfields Future Publishing G Casino Game Gamestation Gamesys GCS George P Johnson Gillingham FC xmas party Google Gorkana Guilty Pleasures Hard Rock Cafe Heineken Hellman & Friedman Help For Heroes Henry's House HGST Hixster Bankside Hotcourses Iceland Investigo IPL ITV Jack Morton Jewson John Lewis Johnson & Johnson Jones Day JP Morgan Kerrang Leeds United FC Lego Lime Pictures LOCOG London Cocktail Club Mace Market Makers Mars MBA Media McDonalds Manchester Evening News Mercedes Mercedes F1 Metro Bank Misys Moneycorp MRM-Meteorite Murco Nandos Nationwide Nintendo O2 O2 Arena Orange Palamon Petronas PGA European Tour Pink-IT PMI Propaganda Proud Camden PRS Prudential Ptarmigan Media PWC Que Pasa RBS Reckitt Benckiser Reed Richard Hammond RKCR & YR Roche Rockstar Roundhouse Saatchi Samsung Santa Lash Sega Sheffield Hallam University Sheffield United FC Sheffield University Shelton Fleming SHS Simply Business
Sky SoftwareOne Somerset House Sony Spinvox Square Enix Steam & Rye Stickyeyes T-Mobile Telefonica Telstra The Guardian The Sun Thomson Reuters Tiger Aspect Tiger Print Tiger Tiger Tilney BestInvest Top Gear Live Total Jobs Group True North TUI Turner Ubisoft Under The Bridge Virgin Marketing Virgin Media Vodafone We Are Result Yahoo!
book your own rockaoke xmas party
Please CONTACT US for more info and to enquire about booking ROCKAOKE.
Or phone Jonny on 01226 761746 / 07949 200793